From Miletus he (Paul) sent to Ephesus and called for the elders of the church. Acts 20:17
At first thought one may think, as I once did, that a small handful of elders from a local church in Ephesus gathered with Paul for his final instructions before going "bound in the Spirit to Jerusalem." But this may hardly have been the case.
Ephesus was the most important city in the Roman province of Asia. It occupied a vast area, and its population has been calculated at 330,000. An enormous theater, shown here, was the center of the city and estimated to hold well over 25,000 people.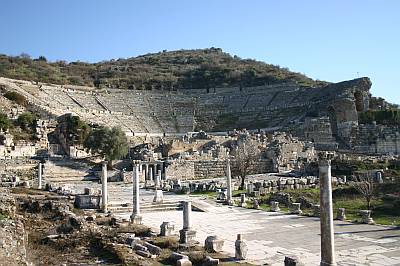 Christianity first came to Ephesus with Aquila and Priscilla around AD 52 when Paul made a short visit there on his first missionary journey (Acts 18:18,19) and left them there. Paul's third missionary journey had Ephesus as its goal, and he stayed there for over two years. (Acts 19:8, 10) During this time, Christianity became so prevalent that it began to incur the wrath from not only the magic cults, but also from the worshippers of the goddess Diana. (See Acts 19:13ff; 19:27.)
Is it not more likely that Christianity had infested the city with numerous home churches spread throughout the city – perhaps even with one or two larger facilities. And, would it not be unreasonable to think that perhaps a minimum of one if not two or three elders were at each location?
Thus, this calling together of the elders of Ephesus may well have been the first "ministerial gathering" (or leaders conference, or pastors retreat, or whatever else one may wish to call it.) The overwhelming importance of this meeting was its corporate nature. No longer should they consider themselves independent (home) churches. The stakes are too high. Danger is just around the corner. Their very life and existence is dependent upon them being linked together into something larger. Their strength, their stability, their ability to stand in the oncoming days of adversity depends on their corporate unity. Also, their ability to press towards His high calling also hangs in the balance.
Paul began by challenging the elders with the most profound charge in all of scriptures, "…take heed to yourselves and to all the flock, among which the Holy Spirit has made you overseers, to shepherd the church of God which He purchased with His own blood." Acts 20:28 What a sobering mandate! Much time may be spent here on this charge, but space prohibits such a needed elaboration.
Paul then warned of the coming heresies and apostasy that were sure to come: "for I know this, that after my departure savage wolves will come in among you, not sparing the flock. Also, from among yourselves men will rise up, speaking perverse things to draw away disciples after themselves." Acts 20:29, 30
In my mind's eye I can almost see Paul saying, "look around yourselves, see where your strength is! It is not in the individual, not embodied in this local church or that ministry, but your strength lies in the ability of this body of elders (overseers) to function in one accord, with one vision, one purpose." Their strength would lie in the corporate, not the independent.
This is something larger than the local assembly, larger than the independent ministry. No one leader could take this oversight or provide this strength. No pope is to be raised up. No chain of command is to be established. It is far removed from being an organization, denomination, or any such thing. It is not bound together by doctrine, dogma, charters, etc. but by vision, purpose, and calling. This is spiritual! It is the functioning of the Body of Christ!
This is a corporate thing! Each church, each ministry, each disciple, is part of something larger in the earth. Isolated they are vulnerable to the world system, fleshly desires, and the enemies of the cross. Deception is subtle, cunning and cruel. Their greatest strength is not in the personal or local anointing, but lies in the Body.
This call for corporateness extended beyond the local ministry, beyond the geographic limits of the city. It draws from the Aquilas and Priscillas, the Pauls, the Barnabus's, the Apollos's, Tychicus' and Onesipherus'. It draws upon the evangelists, the apostles, the teachers, and the prophets. But it was to begin with this regional unity of the brethren.
I do believe this is the call of the Spirit in this hour. Wolves certainly surround the churches, and many are arising up from within. Perversions and heresies flourish. Pastors forsake their flocks for their own gain. Apostasy is at the door's threshold. The waters are becoming stagnant and many lie at the door's threshold promising freshness and life–only to turn heads to another gospel, another Christ. But the cry of the Spirit is for a new kind of unity among those who are like-minded–a call to become part of His larger workings, a quest for a greater strengthening and establishing in the faith, a fixing of the vision for the singularity of Christ and His "upward call."
Christ cried out, "I will build My Church and the gates of hell will not prevail against it." His Church is indeed a corporate, spiritual, Body that will reflect His purposes and calling in the earth. May this call rest heavily upon each heart reading this short message, with an accompanying desire to abandon independence, isolation, self-serving interests, and protectionism. Let us look to the author and finisher of our faith, yield to the hand of the Great Builder, and be part of His workings in the earth. He will build His Church!
Please note. This message was born out of both my recent mission to India, and to the vision and calling of Christ Ministerial Fellowship.